The Public Will Building
The Public Will Building is the headquarters of Metropolitan Group. It also includes a full floor of convening and collaboration space to host strategy, community engagement, programing and events for social change organizations. We also have room for a mission-aligned neighbor.
---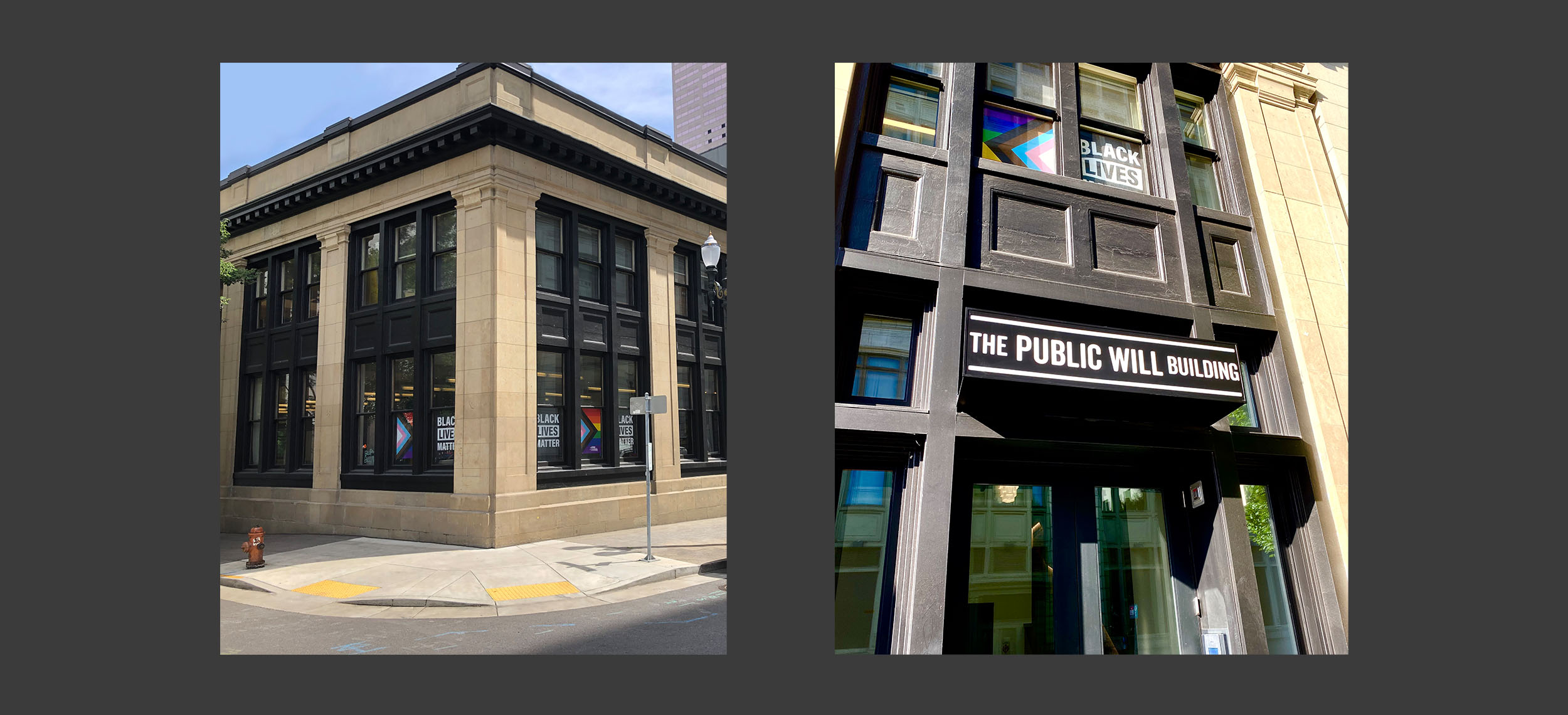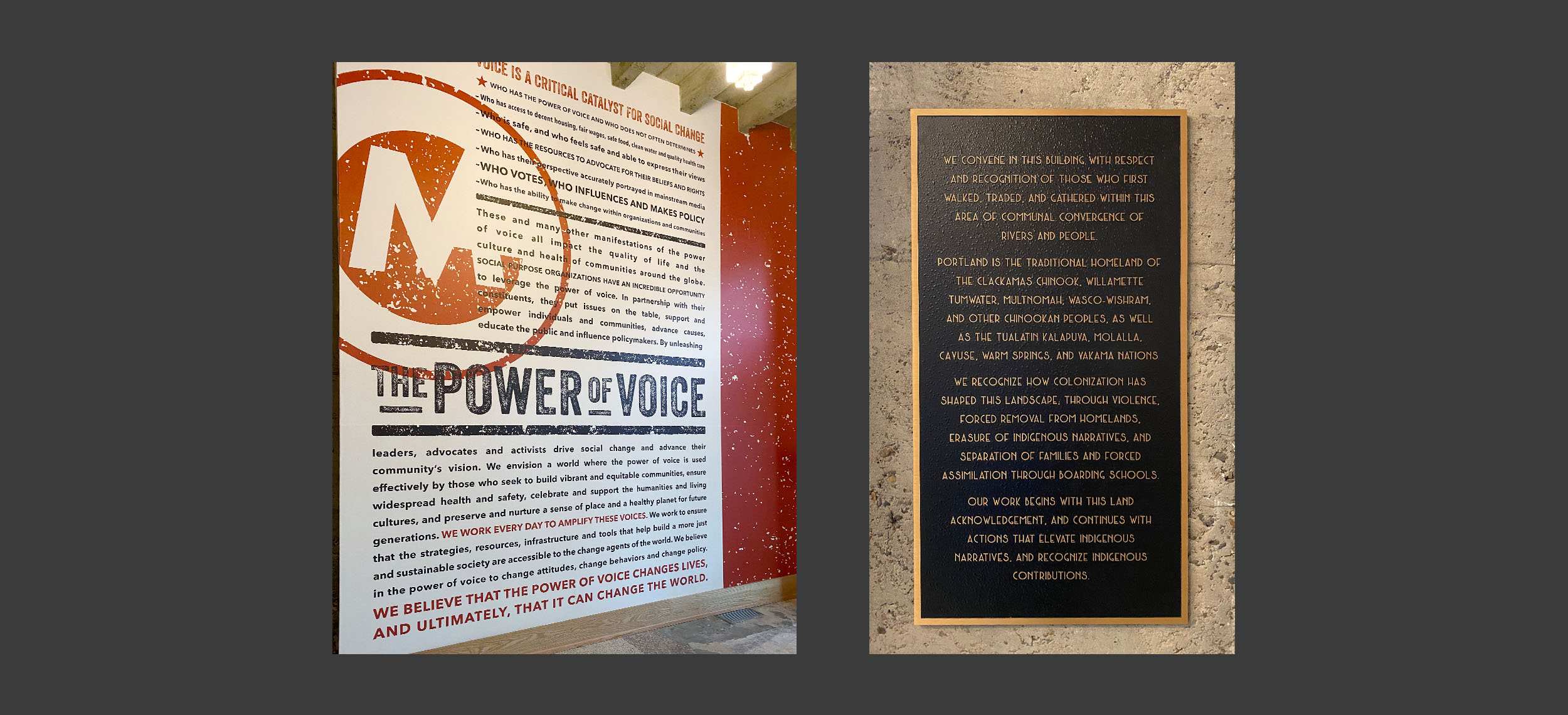 Design Philosophy
Reclaimed Modern–finding and exposing the historic and structural character of the 1913 national historic landmark building while adding new spaces that are clean and modern in juxtaposition to the historic features
Longevity–using high quality, durable materials and investing in craft of construction so the building and finishes are lasting (tile, steel, hardwood, etc.)
Sustainability–reusing existing features, systems and equipment that could be retrofitted for efficiency, sourcing and retrofitting existing furnishings and furniture where possible, sourcing sustainably produced and as-local-as-possible materials to reduce carbon footprint, establishing recycle and reuse for demolition disposal–maintaining and improving upon LEED Silver status
Natural Light and Connectivity–adding almost exclusively glass walls to ensure natural light through the building and view corridors to the outside; connecting people throughout the space
Flexibility of Use–focusing on convening and collaboration spaces, with the ability to reconfigure for various event, training and workshop uses
Healthy–sourcing no-toxin or low-toxin products from paint and floor finishes to shades and carpets, increasing natural light; and making beyond code investments in radon removal, ventilation, fire and life safety systems, etc. 
Accessibility–creating an inclusive environment that goes beyond ADA requirements
Safety–selecting a steel-reinforced concrete building (constructed in 1913 to a standard unheard of at the time). The building had a full seismic upgrade in 2003, new and state-of-the-art fire and life safety systems, radon venting system, security and access systems, as well as additional steel beams
The Power of Voice–serving as a home for change agents, The Public Will Building includes a social movements poster collection, commissioned art inspired by the MG manifesto and a powerful land acknowledgment. The design of the entire commons floor as a convening and collaboration space will provide community-based organizations with spaces for programming, strategy development, stakeholder engagement and fundraising to advance missions and their power of voice.  
Room for the Right Neighbor
We are looking for a mission aligned organization to join us in The Public Will Building. We have 3,194 sq feet available of prime office space (dramatic steel-sash entrance door at tenant-branded landing, SW corner view, tons of natural light, skylight, access to secure underground parking next-door, etc.). The building is rated as a walker's, biker's and transit rider's "paradise", is located just steps away from Powell's Books and the gateway to the Pearl District to the west and the heart of downtown (literally across the street from the Benson Hotel) to the east. The beloved Alder Street food cart pod that was displaced with the construction of the Ritz Carlton will open surrounding a revitalized Ankeny Square (literally outside the back door of the building.
Art at the Public Will Building
We have installed an amazing collection of social movement posters based upon the nominations from MG/ISMG staff. The Public Will Building also includes a few pieces of original artwork including new commissions and a vintage* commission. New Commissions include works by Arvie Smith and Bobby Fouther who were asked to create works based upon the prompt from our manifesto "the power of voice."
Bobby created a piece he felt spoke to the manifesto inspired by the singer and civil rights activist Nina Simone called Nina's Moods.  
Arvie felt the commission needed to connect to what was happening in this moment following the murder by police of George Floyd, the protests and to the larger national context and the local Portland context. He describes Justice Coming Home as an allegory that does not isolate this moment but takes it back to historic origins and forward to a desired future and references Delacroix: Liberty Leading the People. Arvie was featured in Black Art in America both in 2020 and 2019 as part of two powerful exhibits/features. 
We also worked with local arts leader Cecily Quintana on acquiring:
Rebellion of the Colonial World

, 1948 by Jesus Escobedo (1918-1956), Mexico. This is one of ten prints created by the

Taller de Gráfica Popular

for The Confederación de los Trabajadores de América Latina (C.T.A.L) portfolio in 1948. The C.T.A.L. was a continental trade union federation for Latin America in the mid 20th Century.
We were honored to commission Indigenous ecologist and educator Gabe Sheoships  (Confederated Tribes of the Umatilla Reservation) to craft a powerful land acknowledgement. Cast in bronze and placed in the main lobby, all who enter The Public Will Building will encounter and we hope will be inspired to think and to act. 
The lobby features a mural of the MG Manifesto designed by our own Corinne Nakamura-Rybak.
* MG 2000 "vintage" commission: 20 years ago, when we moved into the Dekum Building we commissioned a local artist, Max Grover, to do a painting also inspired by the Power of Voice (he ended up doing a set of six small paintings that graced our reception area and are now at the entrance to The Commons (the conference and convening floor).
History
The Public Will Building at the historic Balfour-Gutherie building is a national historic landmark on the National Park Service's register of historic places. It was designed as the Portland headquarters for the Balfour-Gutherie trading company. This shipping company from Scotland has a slight local claim to fame–it was their charter, the Peter Iredare, that is the well-known shipwreck still visible on the beach near Warrenton, Oregon. The building was designed by iconic Portland architect Morris Whitehouse (who designed the Gus J. Solomon Courthouse, Temple Beth Israel, the Columbia Gorge Hotel, Civic Stadium and many other Portland gems). Since the Balfour-Gutherie Company's west coast headquarters in San Francisco was destroyed in the 1906 earthquake, Whitehouse was asked to design a building that could not fall down or burn. He designed one of Oregon's first steel reinforced concrete buildings. The building was also the print shop and home to the City Rubber Stamp Company. It then became the headquarters and was extensively renovated and modernized in 2003 by the leading architecture firm Thomas Hacker & Associates with complete upgrades including a significant seismic retrofit and all new building systems. In late 2019 and 2020, the building was extensively retrofitted to serve as Metropolitan Group's headquarters and as a convening and collaboration space for social change organizations. We collaborated with Scott Edwards Architecture and Todd Hess Building Company on the project. It was re-dedicated as The Public Will Building on September 30, 2020.